With Deep Clone you can clone a Jira Software, Jira Work Management, or Jira Service Management project, including its issues, components, versions, and settings.
Company-managed projects (without their boards) can be cloned right after installation.

Please follow the instructions under Advanced Project Clone in order to enable cloning

Team-managed projects (Jira Software and Jira Work Management only).

Company-managed projects with their project board configuration.
Cloning a Jira Project
There are two ways to access the Project Clone functionality:
Option 1: Project Clone from the Deep Clone Navigation
Next to the Create button, select Apps > Deep Clone.

Click Project Clone in the Jira navigation on the left.
Option 2: Project Clone from the Bulk Clone dialog
Open the Bulk Clone dialog.

When configuring your Bulk Clone, choose Clone project… as the Target project.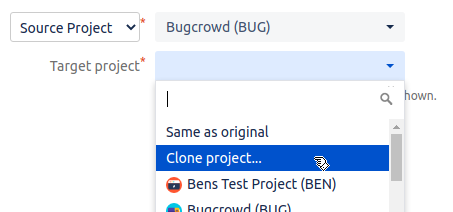 Cloning a Project
You can now select the Source Project where those settings should be cloned from, including the project key and name for the new project.
Once you confirm with Clone project, the new project will be created, and you can proceed to clone the issues into the new project by clicking on Proceed and continue using Bulk Clone.
Permissions
By default, only Jira administrators can use Project Clone, since creating company-managed projects requires administrator permissions. However, you can extend or restrict permissions for Project Clone using the Deep Clone for Jira - Project Clone global permission:

In addition, only logged-in users can use Deep Clone on projects that they have the Browse project permission.
Read more about Deep Clone permissions
Known Limitations
Team-managed projects and company-managed board configurations can only be cloned when the Advanced Project Clone is enabled. If you don't want to enable the Advanced Project Clone you can use the following workarounds:

Company-managed Jira Service Management projects cannot be cloned entirely and the following entities don't get cloned:

Request types, Forms, and External resources

Customer permissions and notifications, language support, email settings

Portal, widget, and chat settings

Knowledge base links and SLA settings

Cloning Jira automation rules is not possible at the moment. You can read more about sharing automation rules across projects in the Atlassian community.

Cloning issue layouts is currently not possible for Deep Clone. Please refer to our documentation on how to Clone issue layouts.
Please note that there may be more limitations. We cannot guarantee that all other details of a cloned project get cloned as expected and cannot be made liable for discrepancies between original and cloned projects.
If you discover any other limitations, please contact us so we can improve Deep Clone or add them here.
Read More